Glass reflecting urban energy
Heather Hancock is a Chicago artist exploring urban light and perspective. Heather's work embraces the materials of modern architecture—glass and concrete—to capture the energy of the urban environment.
Her work hangs in private residences, and corporate, healthcare and government collections across the United States.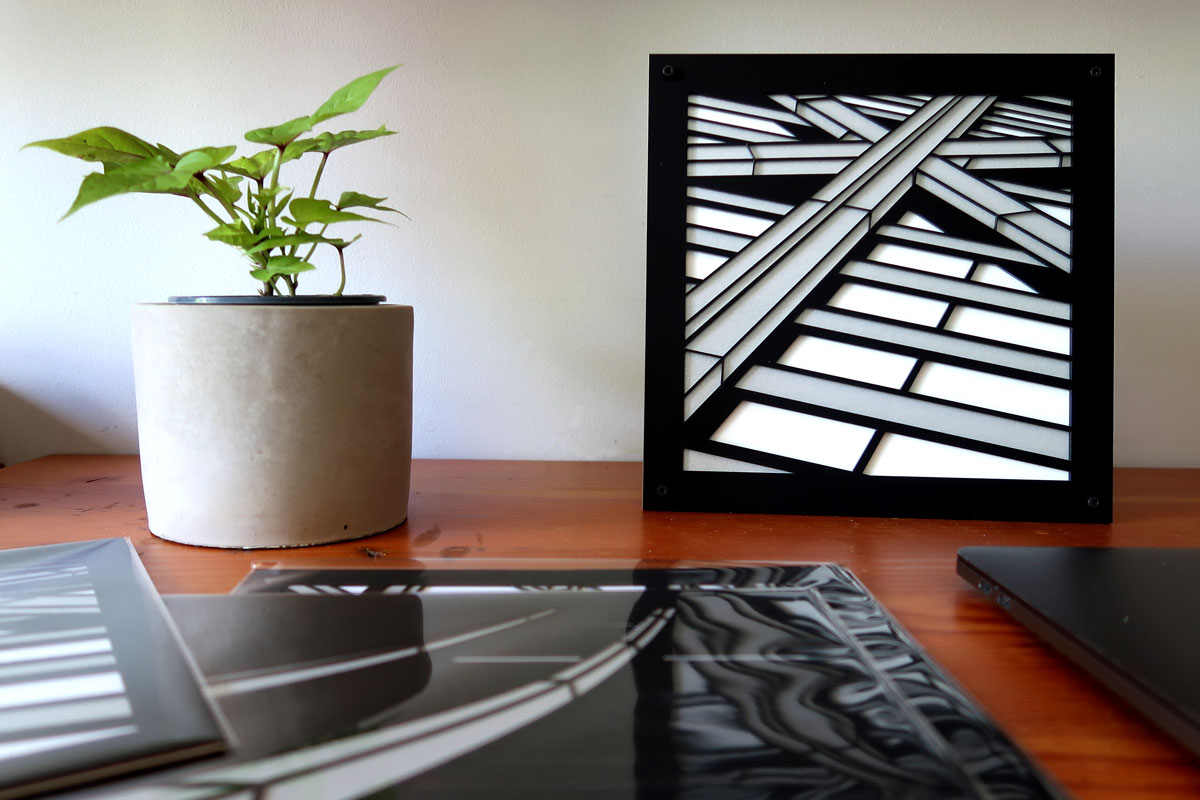 Now Available:
Artist Prints in
laser-cut acrylic & paper
#newglassnow is a global survey of contemporary glassmaking, featuring objects, installations, videos, and performances made in the last three years by 100 artists of 32 nationalities. Heather's Reflect 3.2 Curve, above, was chosen by selectors Aric Chen and Beth Lipman:
Heather Hancock uses glass inlay to re-create the geometries of mid-century modern architectural facades, capturing a sense of the ephemeral within their otherwise highly rational compositions. —Aric Chen
The show is hanging through January 5, 2020 at the Corning Museum of Glass.
See more in the blog…
Architectural abstractions capture the play of light and energetic perspective of the modern city.
Reflect gallery: Residential | Commercial | All
Abstracted text and organic forms entice with color and content of the urban streetscape.
Scan gallery: Residential | Commercial | All
Heather frequently collaborates with art professionals on commercial and residential projects. Commissions have ranged in size from 24" x 24" to multi-panel wall-filling compositions.
Frequent Questions
Wait, is this photography?
Nope! It's hand-cut glass set in grout. Heather abstracts architectural forms and renders them in glass, capturing the energy of street-level perspectives and the play of light and shadow on the architectural materials. The end result is a dynamic, visually responsive effect that's hard to capture in photos.
Are these pieces heavy or hard to hang?
The work is engineered to be surprisingly light and very easy to hang. The glass and grout are adhered on foam core and secured on custom wooden frames. Each piece ships with a standard metal z-cleat. At approximately 3 lbs / sq ft, even large pieces weigh only a fraction of the load capacity of the cleats.
Does the work require special lighting?
Glass loves light. The opaque, clear, mirrored and iridescent glasses in these pieces respond to natural and ambient light in your space. Natural irregularities in the glass play with the light as it changes in your space throughout the day. Custom lighting can enhance this effect and Heather has some simple tips to share from a lighting engineer. Just ask.
I've never seen anything like this!
That's not really a question but thanks! Neither have we :)
All artwork and content copyright © 2019 Heather Hancock Studio. All rights reserved.