Urban Moments. Art objects.
Chicago series
Three iconic #lookingup moments, from the home of the modern skyscraper. View all »
"JOIN"
900/910 Lakeshore Drive
Mies Van der Rohe (1955)
"CRUX"
Hancock Tower (875 N Michigan)
SOM Architects (1969)
"SOAR"
Chase Tower (10 S Dearborn)
CF Murphy / Perkins & Will (1969)
In paper and acrylic formats, for desktop or wall.
From glass art to art objects
Laser-cut paper & acrylic…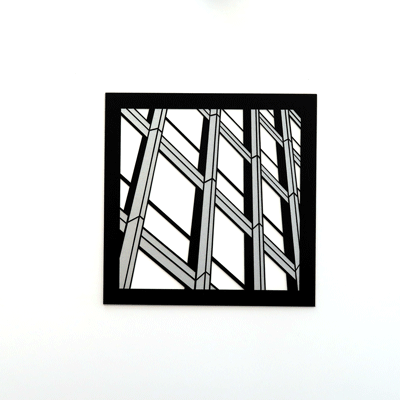 Art by Heather Hancock
Heather is a Chicago artist exploring the play of light and line in the urban landscape. She evokes the thrill of perspective and pattern in emblematic architectural moments from her favorite cities. Her fine art glass work hangs in corporate, healthcare, government and private collections across North America.